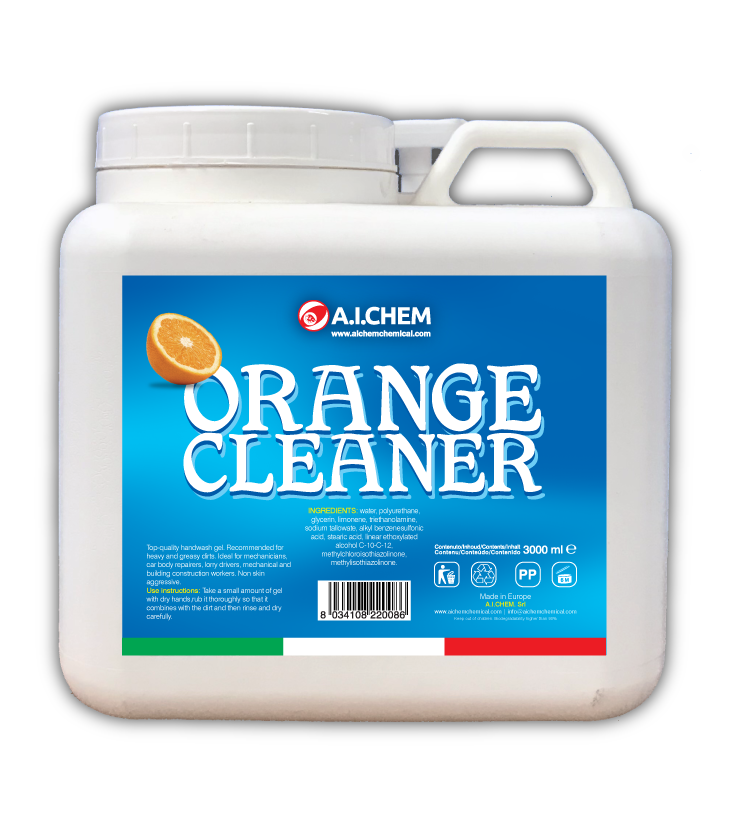 ORANGE CLEANER
+ Description
ORANGE PERFUMED HANDWASH GEL FOR GENERAL USE. IT ALLOWS TO OBTAIN A PERFECT CLEANLINESS OF THE HANDS. IT REMOVES AND ELIMINATES THE MOST OBSTINATE DIRT IN A RAPID WAY, WITHOUT CHAPPING AND DRYING THE HANDS. IT CONTAINS MOISTURIZING AND EMOLLIENT SUBSTANCES.
+ Comment utiliser
PUT ON DRY HANDS THE NECESSARY QUANTITY OF ORANGE HANDWASH, RUB, RINSE AND DRY. REPEAT THE OPERATION IF NECESSARY.
+ Caractéristiques physiques et chimiques
APPEARANCE AND COLOUR: CLEAR COLOURED PASTE
ODOUR: ORANGE
PH: ABOUT 6
RELATIVE DENSITY: PASTE 1:1
WATER SOLUBILITY: YES

+ Packs
4 X 3000 ml
+ Avertissements
TO USE THE COMPOUND RESPECT THE SAFETY GUIDELINES SPECIFIED IN THE SAFETY DATA
SHEET.

TECHNICAL INFORMATION AND RECOMMENDATIONS COMPLY WITH OUR EXPERIENCES. A.I.CHEM GUARANTEES THE CONSTANT QUALITY OF THE PRODUCT. SINCE THE CONDITIONS OF USE ARE NOT UNDER OUR CONTROL, WE DON'T ASSUME ANY RESPONSIBILITY FOR THE RESULTS OBTAINED.

Connectez-vous pour télécharger le contenu PDF