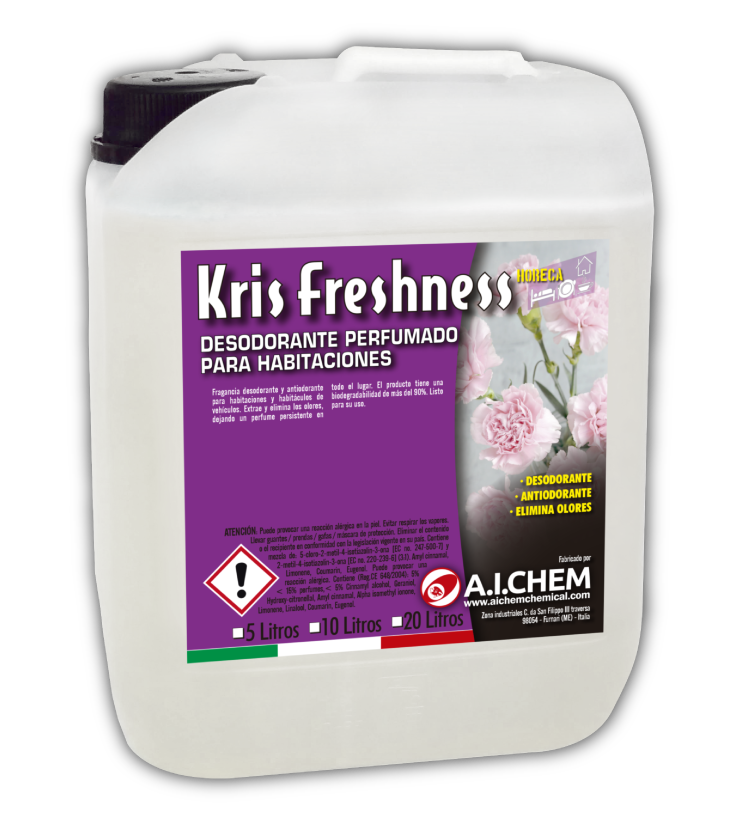 KRIS FRESHNESS
+ Description
DEODORANT FRAGRANCE FOR CARS.
+ Applications
IT REMOVES AND ELIMINATES ODOURS, LEAVING A PERSISTENT SCENT IN THE WHOLE INSIDE OF THE CAR.
THE PRODUCT HAS A BIODEGRADABILITY HIGHER THAN 90%.
+ How to use
READY TO USE.
+ Physicla and chemical characteristics
APPEARANCE AND COLOUR: LIQUID, PERSONALIZED
ODOUR: PERSONALIZED
PH: NEUTRAL
POINT OF INFLAMMABILITY: NA
RELATIVE DENSITY : NA
WATER SOLUBILITY: SOLUBLE
LIPOSOLUBILITY: NA
+ Packs
5 LT - 10 LT - 20 LT
+ Warnings
TO USE THE COMPOUND RESPECT THE SAFETY GUIDELINES SPECIFIED IN THE SAFETY DATA SHEET.

THE INDICATIONS THEREIN ARE BASED ON OUR CURRENT KNOWLEDGE, THEY REFER TO THE PRODUCT INDICATED AND THEY ARE NOT INTENDED TO
GUARANTEE ANY CHARACTERISTIC OR RESULT OBTAINED. THE USER MUST MAKE SURE OF THE IDONEITY AND THE COMPLETENESS OF THIS INFORMATION
ACCORDING TO PERSONAL USE.
Login to download PDF content