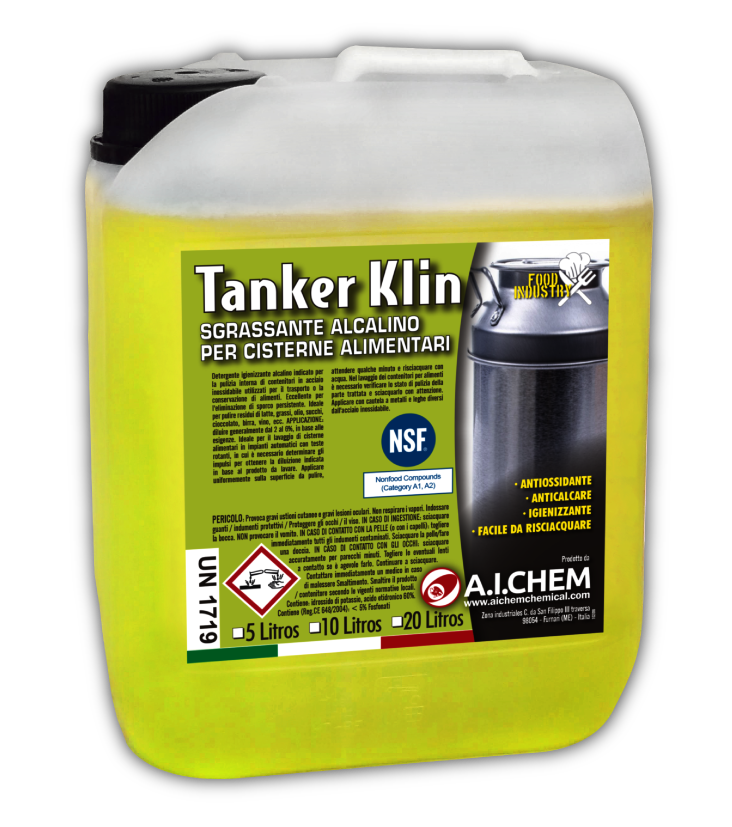 TANKER KLIN
+ Description
ALKALINE DETERGENT IDEAL TO CLEAN THE INTERNAL PART OF STAINLESS STEEL CONTAINERS. HIGH CAPACITY TO DISSOLVE AND HYDROLIZE FATS. GOOD ANTIOXIDANT PROPERTIES.
+ Applications
TANKER KLIN CAN BE USED TO CLEAN STAINLESS STEEL CONTAINERS OF FOOD: TANKS, SILOS, ETC
PERFECT TO CLEAN DIRT RESISTENT TO OTHER NORMAL DETERGENTS.

+ How to use
IN FUNCTION OF THE NECESSITIES, DILUTE TANKER KLIN IN WATER. SPRAY IT EVENLY ON THE SURFACE TO CLEAN, WAIT FOR MANY MINUTES AND THEN RINSE IT ABUNDANTLY WITH WATER. IN FOOD CONTAINERS WASHING IT IS NECESSARY TO CONTROLL THE CLEANLINESS OF THE CLEANED PART, AND TO RINSE IT CAREFULLY.
USE IT CAREFULLY ON METALS AND ALLOYS DIFFERENT FROM INOX STEEL.

+ Physicla and chemical characteristics
APPEARANCE AND COLOUR: LIQUID, CLEAR YELLOW
ODOUR: CHARACTERISTIC
PH: 13 - 0.5
POINT OF INFLAMMABILITY: NA
RELATIVE DENSITY : NA
WATER SOLUBILITY: SOLUBLE
LIPOSOLUBILITY: NA

+ Packs
20 LT - 200 LT - 1000 LT
+ Warnings
TO USE THE COMPOUND RESPECT THE SAFETY

GUIDELINES SPECIFIED IN THE SAFETY DATA SHEET.
THE INDICATIONS THEREIN ARE BASED ON OUR CURRENT KNOWLEDGE, THEY REFER TO THE PRODUCT INDICATED AND THEY ARE NOT INTENDED TO GUARANTEE ANY CHARACTERISTIC OR RESULT OBTAINED. THE USER MUST MAKE SURE OF THE IDONEITY AND THE COMPLETENESS OF THIS INFORMATION ACCORDING TO PERSONAL USE.

Login to download PDF content