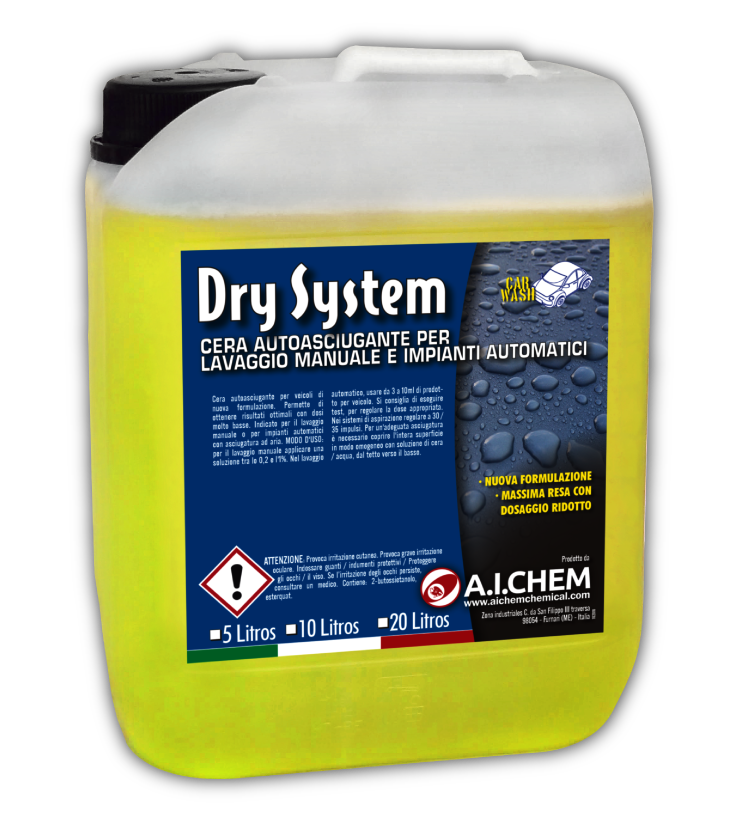 DRY SYSTEM
+ Description
NEW SELF-DRYING WAX, IT ALLOWS TO OBTAIN PERFECT RESULTS WITH A LOW DOSAGE. IDEAL FOR AUTHOMATIC SYSTEMS OF CAR WASHES. AFTER EVERY APPLICATION, IT PROTECTS THE BODYWORK FROM SMOG AND ACID RAINS. IT LEAVES CAR GLASSES PERFECTLY CLEANED
+ Applications
THE PRODUCT IS PROJECTED FOR SYSTEMS OF AUTOMATHIC WASH CYCLE, WHEELED OR IN TUNNEL, WITH TISSUE DRYING.
+ How to use
ACCORDING TO THE SYSTEMS, THE WAX CAN BE USED UNDILUTED, IF THE SYSTEM HAS PULSE PUMPS, OR WITH A PREVIUOUS DILUTION, IF A VENTURI SYSTEM IS USED

TO DRY THE CAR, ABOUT 10 GRAMS OF THE UNDILUTED PRODUCT ARE NECESSARY, BOTH IN A PULSE PUMPS SYSTEM AND IN ASPIRATION ONES. TO OBTAIN A PERFECT RESULT IT IS IMPORTANT TO TRY THE PRODUCT WITH THE SYSTEM TO HAVE THE BEST YIELD. REMEMBER THAT AN EXCESIVE USE OF THE PRODUCT CAN DAMAGE THE VEHICLE.
FOR MANUAL WASH, PREPARE THE NECESSARY QUANTITY OF WATER IN AN APPROPRIATE CONTENENT, ADD UNDILUTED WAX WITH A PERCENTAGE OF ABOUT 10 GRAMS FOR 10 LITRES OF WATER. WASH THE CAR, RINSE IT WITH ABUNDANT WATER OR WITH HIGH PRESSURE WATER JET. THROW THE COMPOUND MADE OF WATER AND WAX ON THE WET CAR, DOWNWARDS. TO OBTAIN A GOOD DRYING, IT IS IMPORTANT THAT THE COMPOUND MADE OF WATER AND WAX COVER THE WHOLE SURFACE.

+ Physicla and chemical characteristics
APPEARANCE: LIQUID
CHEMICAL CHARACTER: CATIONIC
ODOUR: CHARACTERISTIC
COLOUR: STRAW-COLOURED

+ Packs
LT 10-20
+ Warnings
TO USE THE COMPOUND RESPECT THE SAFETY
GUIDELINES SPECIFIED IN THE SAFETY DATA SHEET.

THE INDICATIONS THEREIN ARE BASED ON OUR CURRENT KNOWLEDGE, THEY REFER TO THE PRODUCT INDICATED AND THEY ARE NOT INTENDED TO GUARANTEE ANY CHARACTERISTIC OR RESULT OBTAINED. THE USER MUST MAKE SURE OF THE IDONEITY AND THE COMPLETENESS OF THIS INFORMATION ACCORDING TO PERSONAL USE.

Login to download PDF content