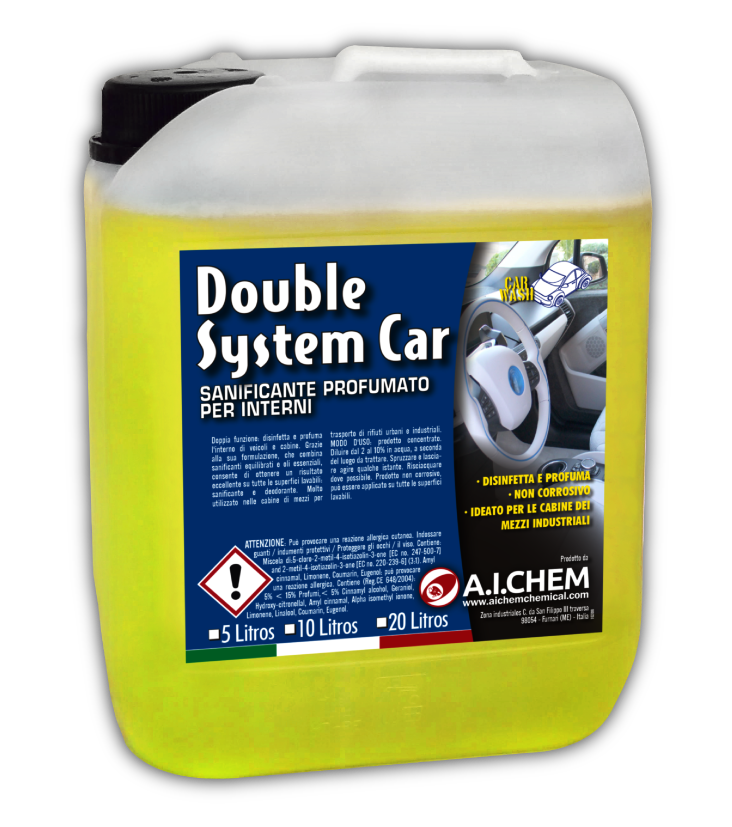 DOUBLE SYSTEM
+ Description
DOUBLE SYSTEM IS A SANITIZING AND HYGIENIC DEODORANT FOR THE HOUSE, THE URBAN AND THE INDUSTRIAL HYGIENE: IT IS MADE OF BENZALCHONIUM CHLORIDE, NOT IONIC SURFACTANTS, WETTINGS, SEQUESTRANTS, ESSENTIAL OILS.
THANKS TO THE BALANCED COMPOSITION AND TO THE DEEP POWER OF ITS COMPONENTS, DOUBLE SYSTEM ALLOWS TO OBTAIN A PERFECT RESULT ON EVERY WASHABLE SURFACE TO BE SANITIZED AND DEODORIZED.
THE PRODUCT IS USED IN THE URBAN SECTOR (REFUSE TRANSPORT VEHICLES, WASHING OF CONTAINERS FOR COMMUNAL WASTE, INDUSTRIAL FLOORS, STABLES, ETC).

+ How to use
DILUTE DOUBLE SYSTEM IN WATER, BETWEEN 2% AND 10%; IN FUNCTION OF THE SURFACE TO CLEAN, SPRAY THE PRODUCT, LET IT WORK FOR MANY SECONDS, RINSE WHERE IT IS POSSIBLE (STABLES, DOMESTIC ANIMALS BUILDINGS, INDUSTRIAL FLOORS, ETC ).

DOUBLE SYSTEM NOT CORROSIVE COMPOUND CAN BE APPLIED ON EVERY WASHABLE SURFACE.

+ Physicla and chemical characteristics
APPEARANCE : LIQUID
PH OF UNDILUTED SOLUTION: ABOUT 7,5
DENSITY: 1.003 ( 15°C )
SOLUBILITY : COMPLETE IN WATER

+ Packs
LT 5 LT 10 LT 20
+ Warnings
TO USE THE COMPOUND RESPECT THE SAFETY GUIDELINES SPECIFIED IN THE SAFETY DATA SHEET.

A.I.CHEM GUARANTEES A CONSTANT QUALITY OF THE PRODUCT. THE INFORMATION THEREIN IS BASED ON OUR KNOWLEDGE UP TO THE DATE OF 18/11/2004. IT ONLY REFERS TO THE PRODUCT INDICATED. THE INFORMATION IN THIS DOCUMENT IS INDICATIVE, AND IT IS NOT A GUARANTEE. NO RESPONSIBILITY COULD BE ATTRIBUTED TO US FOR DAMAGES DERIVING FROM AN INADEQUATE USE OF THE PRODUCT.

Login to download PDF content